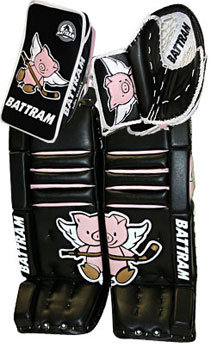 Super Combo Deals on now for purchases including pads and gloves!!! SAVE!!! Pricing outlined below!
Glove Combo Special also available at this time $750.00 CAD (See glove pages for details)
Custom graphics typically range in price between $100 and $160 depending on graphic complexity (pads and gloves). Some very complex graphics are prices higher according to the time involved to complete.
Design your own custom graphic or select an existing custom design from the equipment galleries!
Please email: sbattram@battram.com for custom graphic quote as well as INT sizing options.
Custom Color Combinations are completed with No additional Charge!
Standard Battram Graphic Designs Available: Retribution Vengeance, Fury, Verge, Barricade, Myst, Deceptor, Cyclone, Helix, Storm, Millennium, Angle, Wave, Burst.
(Shipping excluded, taxes for purchases within Canada excluded)
(Battram reserves the right to reproduce custom graphic designs)
(Please be advised that your own design submitted on templates may be changed slightly so that it transfers from the paper image to the equipment in the manufacturing process)