Our Business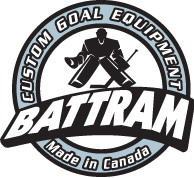 BATTRAM Custom Goal Equipment is located in Curries, Ontario, Canada. We started out small, and slowly grew into a company that is becoming known worldwide. Our very first sewing machine was purchased used, for the small sum of $200 quite some time ago. That machine is history! Now we run 5 different machines, all purchased new. One thing that has not changed is our dedication to our craft. Many companies that you will run across in this business are out to make a lot of money. We STRONGLY feel that BATTRAM is better off staying mid-sized, dealing on a one to one basis with the individual customer, and producing a product that is TOP-NOTCH in all aspects.
We have shipped gear to Australia, Germany, England, and all over the United States. We like to sell direct to the customer because this way we can eliminate a "markup" of 20-35%. Battram uses material upgrades to focus on quality and durability at a reasonable price point. Our goal is not to make the cheapest product on the market, but a quality piece of equipment at an affordable price.
We are so confident in our products that we offer a limited lifetime warranty against manufacturer's defects. We believe we are the only company to offer this in the industry.
Our Mission
Our mission is simple: to produce high quality goalie gear with attention to detail and craftsmanship including customized options and sell direct to the customer at a reasonable price! We think as you browse our site, you will see this small company from Ontario, can easily go head to head with the big boys.